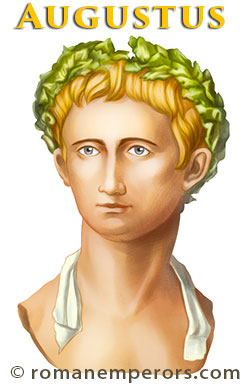 "Octavian"
27 years before Jesus Christ was born, the Senate of Rome bestowed upon Octavian the title Augustus. Augustus became the first "Emperor", which comes from the military title imperator. In actuality he became no more than first senator, but he skillfully combined within himself all the powers of consul, tribune, and other offices, and he really had no rival.
Augustus was also shrewd in that he directly controlled the strongest military provinces. He was smart enough to avoid Julius Caesar's mistake which was to oppose the senators. Augustus brought a great Roman peace (Pox Romana) which extended all the way to the Danube River and the Black Sea.
Augustus was clearly the greatest Emperor in all of Roman history, and the title "Father of his country" was well-deserved. He made many wise and clear decisions throughout the provinces, boasting that he had transformed Rome "from a city of brick into a city of marble."
Augustus was very religious, as celebrated in the famous Altar of Peace in the city of Rome. He restored as many as 80 temples, he attempted to regulate morals, and he even banished his own daughter Julia for her immorality. He encouraged marriage and childbearing and he even used legislation to do so. In fact according to his census records the number of Roman citizens grew from 4,000,000 in eight BC to 5,000,000 in 14 A.D.
It was during a time of great peace in the reign of Augustus that Jesus Christ was born in Bethlehem. He would have been born in Nazareth, the home of his parents Joseph and Mary, had it not been for the census ordered by Augustus, requiring all adults to register at their ancestral home towns.