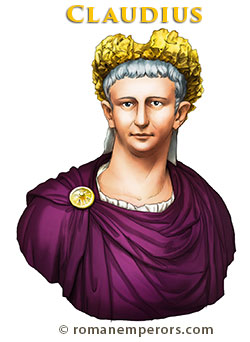 "Scholar"
Claudius was the uncle of Caligula and fourth Emperor of Rome. He was a scholar who had the historian Livy as one of his tutors. He also stumbled as he walked. He suffered from a deformity because of polio, paralyzed as an infant. He was not taken very seriously until he became emperor or Rome, and gained prominence by his decisions. He added at least five provinces to the Empire, including Britain and Morocco (Mauretania). He appointed his freedmen to run the bureaucracy, including Pallas to run the treasury.
Paul the Apostle went on his missionary journeys mainly during the reign of Claudius, and while he was in prison in Caesarea for two years when Felix (brother of Pallas) was procurator of Judea.
Claudius was not very wise in choosing his wives. His first wife was Messalina and she was very unfaithful, so Claudius was advised to have her executed and he did so. It was written of him that he would forget that she was dead and would expect her to show up at the dinner. His second wife was Agrippina she wanted her son Nero to be Emperor so one night she murdered Claudius by feeding him poisonous mushrooms. Nero then took the throne.