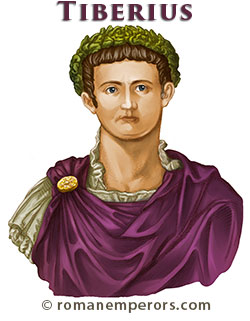 "Tiberius"
The empress Livia bore a son from a previous marriage whom she named "Tiberius."
Augustus was not impressed with Tiberius, even though he was an able soldier. He forced Tiberius to divorce the one he loved, Vipsania, and to marry Julia, his adulterous daughter.
The reign of Tiberius was damaged by treason trials, scandal, absence, indulgence, and his own personal orgies. In 26 A.D. Tiberius was 67 years old when he was persuaded by Sejanus, the reckless leader of the praetorian guard. He was advised to leave Rome and spend his life on the island of Capri, near the Bay of Naples. The ancient writer Suetonius wrote many scandalous stories regarding Tiberius and his orgies, indulgences, and sadistic displays. Tiberius learned of the treachery of Sejanus in 31 A.D. and had him executed. Sometime around 30 A.D. Jesus of Nazareth was crucified under the rule of Sejanus' prefect, Pontius Pilate, a fact which was known by the Roman historian, Tacitus.